Third Round of Implementation Science Pilot Grants Announced
Sydney Health Partners' Implementation Science Academy has awarded grants totalling $200,000 to ten teams of researchers and clinicians, funding which will assist them to test the implementation of research innovations in clinical practice.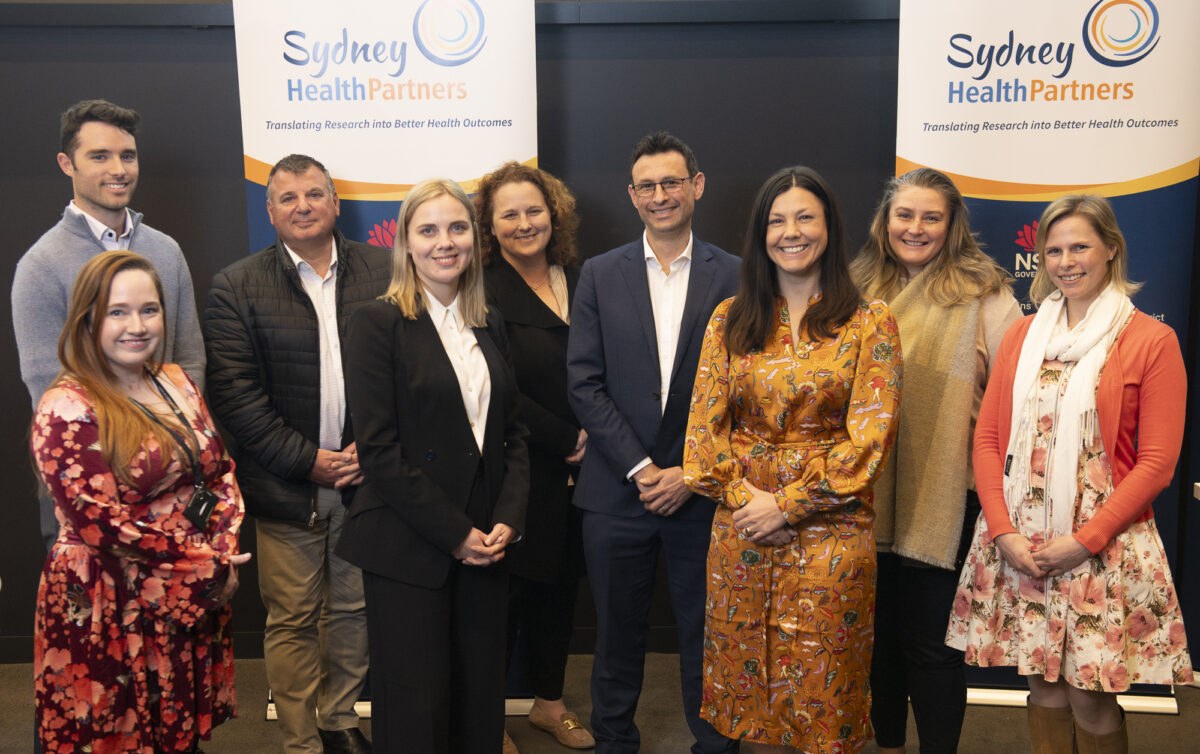 It's the third round of the pilot grants program, which was launched by SHP in 2020 with the aim of helping research teams develop competitive applications for further funding.
Co-lead of SHP's Implementation Science Academy, Dr Heather Shepherd, says the grant review panel was impressed by the high quality and diversity of the applications.
"The top ten applications were judged by our review panel as being to a very high standard, so we are pleased to be able to provide them all with some support," she said.
Each of the projects is funded over two years and has two principal investigators – one research -based and the other clinically based.
Dr Shepherd said that as part of Sydney Health Partners commitment to fostering the next generation of clinical researchers, the program encouraged applications for projects led by early to mid-career researchers (EMCRs).
"It's increasingly difficult for EMCRs to win grants without having prior grant success, so we hope that this program will make a difference to the development of their research careers."
The ten new pilot grants are in addition to 15 pilot grants previously awarded by the Sydney Health Partners Implementation Science Program.
Sydney Health Partners expects that the research outcomes of the funded projects will help teams to seek further funding through larger grant schemes such as the Medical Research Future Fund and Translational Research Grants Scheme.
Researchers Paula Beckenkamp (University of Sydney) and Dr Mark Halliday (Sydney Local Health District) received a grant for an exercise intervention to deprescribe paracetamol.
"A very important part of what we do is to be able to give back to the community," said Ms Beckenkamp. "So it will be a very exciting opportunity to try something that we have been working on for so long and see whether it's going to work on not in clinical practice."
2023 Implementation Science Pilot Grants
Project Title
Academic Principal Investigator
Clinical Principal Investigator
SHP organisations where research will
take place
Feasibility and acceptability pilot of a self-management intervention "My Personal Recovery Plan" (MyPREP) for people with serious mental health conditions
Dr Alyssa Milton
Prof Nick Glozier
Sydney Local Health District (SLHD), University of Sydney
Helping clinicians and patients make sense of HPV-related oropharyngeal cancer: implementation of an information resource
Dr Rachel Dodd
A/Prof Purnima Sundaresan
Chris O'Brien Lifehouse, Northern Sydney Local Health District (NSLHD), Western Sydney Local Health District (WSLHD)
Tailoring a bereavement model of care for the respiratory service of Nepean Hospital
Dr Nicci Bartley
Dr Laura Kirsten
Nepean Blue Mountains Local Health District (NBMLHD), University of Sydney
Implementation pilot of Virtual Reality intervention to reduce adolescent/young adult distress in emergency departments
Dr Brad Ridout
Dr Margaret Murphy
WSLHD
Tele-Prehabilitation for major abdominal and thoracic surgery to improve patient outcomes
Dr Sviatlana Kamarova
Anwar Hassan
NBMLHD
Impact of an interactive workshop on physiotherapists' implementation of an evidence-based e-health resource for people with musculoskeletal conditions in tertiary care
Prof Trudy Rebbeck
Ms Dragana Ceprnja
WSLHD, University of Sydney
The acceptability of digital supports for families waiting for neurodevelopmental assessment.
Dr Kelsie Boulton
Dr Antoinette Hodge
Sydney Children's Hospitals Network (SCHN -Westmead)
Evidence-based physiotherapy exercises for all
Prof Lisa Harvey
Dr Joanne Glinsky
Kolling Institute, NSLHD, University of Sydney, The George Institute, WSLHD
Move to improve: prescribing physical activity and deprescribing paracetamol: a pilot feasibility study
Paula Beckenkamp
Dr Mark Halliday
SLHD, University of Sydney
A digital tool for clinicians to improve the uptake of resistance training in cardiac rehabilitation (LIFT-CR)
Dr Matthew Hollings
Mr Robert Zecchin
WSLHD, NSLHD